Qualia Personality
Exceptional psychometrics for human resources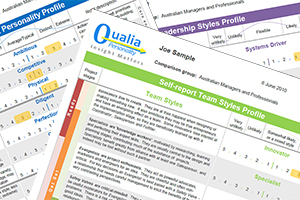 Qualia Personality is a sophisticated occupational personality questionnaire.
It provides a comprehensive yet easy to understand description of an individual in a work context.
Who should use Qualia Personality?
Qualia is intended for professional use by Organisational Psychologists, human resources practitioners, executive coaches, recruitment professionals and career guidance counsellors, to inform…
recruitment decisions
learning and development
management and retention
team construction
culture change
career choice
What will you get?
Contemporary design
Designed by leading experts, Qualia has over a decade of research and development behind it. Its unique nipsative question format and British standard statistical trialling offer superior accuracy over other tools.
It's written in culturally neutralised English so you can use it internationally wherever first or second language English is spoken, including the United Kingdom, America, Canada, Australia, New Zealand, India, Singapore, Malaysia, The Philippines, Hong Kong and South Africa.
Qualia has 87 question clusters accommodating 261 sub-questions. It takes 20 to 30 minutes to complete.
Love the format — easy to read… More comprehensive than the 16PF, less jargony than the MBTI … Head and shoulders above DISC. A very practical, useful tool.
User-friendly results
Results are displayed as peer-group comparisons so you can see your staff or clients' traits relative to what is normal for other working people.
It also offers an optional Problem Predictor that assists with pre-screening job candidates for derailment behaviours such as bullying, volatility, unreliability, passivity and resistance to change.
Excellent, thank you very much. Having done some similar things in the past, I can say that it's a good reflection… Crucially, the presentation of results is the best I've seen.
Comprehensive
Qualia does not put people in boxes. It gives you a very individualised profile of 29 personality traits, providing rich insight into each individual's…
Thinking style
Interpersonal style
Drivers and motivations
Interests
Emotional style
This is what the individual Self-report and 360-degree profile charts look like…
[Qualia] is the best tool available for building self-awareness and getting behavioural change. I dedicated the whole of last year to researching these tools, to find the best one. This was the winner.
Competency sets
Qualia also calculates competencies. It offers six superbly designed, easy to understand competency sets plus options for measuring your own in-house competencies…
Leadership Styles

— styles of leadership a person is most likely to adopt. View a sample report

Team Styles

— roles that a person is most likely to naturally adopt in a team. View a sample report

Meeting Styles

— how a person is likely to behave in group discussions. View a sample report

Reporting Styles

— how a person is likely to relate with their boss. View a sample report

Sales & Service Styles

— approaches that a person is likely to take to selling and managing customer relationships. View a sample report

Problem Predictor

— 'red flags' that reveal potentially disruptive behaviours.

Custom

— your own competencies displayed on a customised

Qualia

report.
I am extremely impressed with the depth of [Qualia]. It doesn't pigeon-hole people but creates a truly comprehensive profile of an individual. Nonetheless it's surprisingly clear and very easy to understand.
It's particularly great for its ability to clarify areas for personal development. I'm amazed at the Interpretation Guide. It's all exceedingly well put together.
Simple pricing
There are zero upfront costs to access Qualia and no license fees. You pay only for what you use.
How can you get started?
We will do everything for you. Just tell us who you want profiled and we'll take it from there. Contact us about your needs.
Or if you are an Occupational Psychologist or other human resources specialist and would like to use Qualia independently, you may do so after attending one of the excellent Occupational Personality Profiling training courses.
What does
Qualia

mean?

Qualia is a collective noun meaning the essential properties or qualities of a thing, such as sweetness or bitterness.

It's pronounced KWAH-lee-uh or kwä'lē-ə.
Learn more
Qualia Personality is a trademark of Insight Initiatives Pty Ltd. The current and in-development suite of Qualia tools includes: Qualia Personality, Qualia Performance 360, Qualia QI, Qualia Climate, Qualia Acumen and Qualia Last Word.